Hobbies
In her spare time Renee loves spending time with her grandkids, doing DIY projects and watching her favorite move Grease!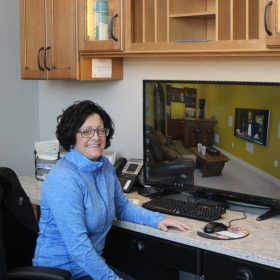 Renee Whitlow
Originally from Muscatine, Iowa, Renee Whitlow moved to Des Moines in 1993. Getting married and having children changed her plans of becoming a teacher and soon after she started working as a painter with Donna Alley. When Donna made the move to Fleming Construction, Renee joined as well. Renee was our beloved bookkeeper for many years and retired from Fleming Construction in 2019 to spend more time relaxing and spending with her grandkids. That was a short lived retirement as she missed being part of the team and rejoined Remodeling Contractors part time helping paint interiors for Express Handyman.
Today
Today Renee works with the Express Handyman team doing small interior painting projects such as color changes and touch ups. She also helps do final punch downs and clean outs with the Design-Build remodel team. She thinks Remodeling Contractors is a one of a kind business because they take pride in their work, expecting everything to be done on time, on budget, and to the best of their ability every time.
Advice
Young adults going into the professional world need to start early. Go to school, no matter what type and find out what you love to do. That will lead to a job and good experience.